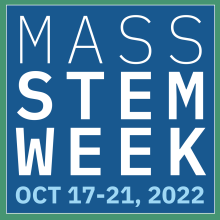 Massachusetts STEM Week 2022 takes place from October 17 – 21.
Organized by the Executive Office of Education and the STEM Advisory Council, in partnership with the state's 9 Regional STEM Networks.
This statewide effort aims to "boost the interest, awareness and ability for all learners to envision themselves in STEM education and employment opportunities, and compliment the formal instruction happening in the Commonwealth beyond STEM week."
From the website:
"The theme for the fifth annual statewide STEM Week is "See Yourself in STEM," with a particular focus on the power of mentoring.
"Women, people of color, first-generation students, low-income individuals, English language learners, and people with disabilities are underrepresented in STEM industries and make up an increasing portion of the overall workforce, but the demographics of STEM fields have remained largely the same. We need more young people to see themselves in STEM."
Learn more at: https://www.massstemweek.org/