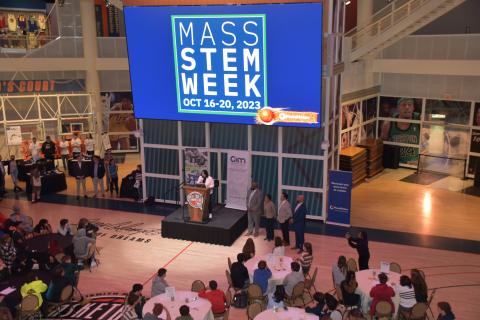 October 19, 2023
Source: Massachusetts Center for Advanced Manufacturing at MassTech
SPRINGFIELD, MASS. – This week, over 300 students from across Massachusetts converged on the Naismith Basketball Hall of Fame to participate in the MassMakes Innovation Challenge, a session, organized by the Center for Advanced Manufacturing at MassTech (CAM), that combined hands-on manufacturing, engineering projects, and Q&A sessions with industry leaders. Many of the participants are currently enrolled in the state's Innovation Career Pathways program that educates students in high demand technical fields. The event was headlined by Lieutenant Governor Kim Driscoll, a co-chair of the statewide STEM Advisory Council, and Secretary of Education Patrick Tutwiler, who each stressed the importance of investing in our manufacturing future and the need to support the next generation of professionals in this critical sector.
"In Massachusetts, we're building future pathways to success by connecting high school students with new opportunities to learn, grow, and engage with innovative technologies," said Governor Maura Healey. "The MassMakes Innovation Challenge is a unique opportunity for young people to access hands-on training, develop critical skills, and get exposed to careers in manufacturing and robotics. We're proud to provide a space for collaboration among young people, industry leaders, and educators during STEM Week."
"STEM Week is the perfect time for a hands-on event that highlights for students how the topics they're learning in school are directly related to the skills they'll need in the workplace," said Lt. Governor Driscoll. "This event also shows students that a career in manufacturing is not the job it was decades ago – it's a high-tech, innovation-driven field that requires critical thinking, creativity, and creative problem solving."
"The MassMakes Innovation Challenge at the Basketball Hall of Fame was an incredible example of applied learning in action, getting students excited about the hands-on projects and skills necessary in leading STEM industries. Each student there had an engaging, fun, and meaningful opportunity to explore STEM fields, which is exactly the environment we need to foster to continue inspiring the next generation of STEM leaders," said Secretary Tutwiler of the Executive Office of Education. "The Healey Driscoll Administration has delivered significant investments for our STEM educational programs and our goal is to continue to increase access to STEM challenges, Innovation Career Pathways, Career Technical Education, and our other pathway opportunities."
"Events like the Innovation Challenge inspire young people to pursue careers in STEM and shows employers the unique skills Massachusetts students have to offer," said Secretary Yvonne Hao of the Executive Office of Economic Development. "By connecting young professionals with industry leaders in manufacturing and emerging fields, we are strengthening our state's competitiveness and paving the way for a more innovative future here in Massachusetts."
Photos from the event can be found here.
"This Challenge is a key part of our broader MassMakes engagement campaign, which ensures that students and those seeking a career change have access to skills training and job resources to get the STEM training they need to enter these manufacturing sectors that are increasingly powered by tech and innovation," said Adam Couturier, Director of Manufacturing Education at the Center for Advanced Manufacturing at MassTech, the organizer and convener of the event. "We are proud to support the statewide STEM Week program and to continue our work with manufacturing partners statewide to identify emerging opportunities, offer critical support, and guide schools on curriculum development so that training matches up with the demands of employers in our state."
The event took place during Massachusetts STEM Week 2023, which features a series of events to motivate students to enter STEM fields and to promote the theme "See Yourself in STEM."
The website MassMakes.org is powered by the Center for Advanced Manufacturing at the Massachusetts Technology Collaborative and aims to help Massachusetts residents prepare for and connect to jobs in advanced manufacturing. Those already in the workforce who are interested in a manufacturing career can also take advantage of the resources on the website, which are tailored to job opportunities in several manufacturing disciplines and includes a list of training resources available across the state.
###