October 20, 2020
Source: CAM at MassTech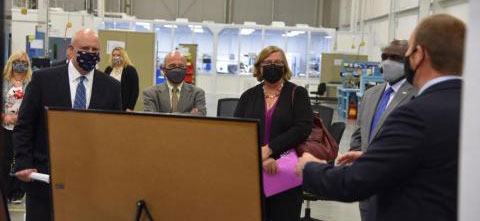 CHICOPEE — Today, the Baker-Polito Administration announced a new grant totaling approximately $2,581,109 from the Massachusetts Manufacturing Innovation Initiative (M2I2) to support the development of a new advanced manufacturing center at Convergent Photonics in Chicopee, which is partnering with Western New England University (WNE) on the new facility. Called a 'Lab for Education and Application Prototyping, or LEAP, the lab will focus on product development, training, and research in the field of integrated photonics, and will be the fourth lab of its kind in the state.
The award was announced today by Housing and Economic Development Secretary Mike Kennealy, who visited Convergent with Massachusetts legislative leaders to meet with Convergent program teams and higher education institutions that will benefit from the new facility. The project teams highlighted how the M2I2 grant will be utilized, outlining the future installation of a high-power semiconductor laser lab which will support the development of innovative technologies, and a state-of-the-art education and training facility for students, teachers, and faculty from WNE, Springfield Technical Community College (STCC), and other Massachusetts institutions seeking training in optics and photonics technology.
"Our investments in advanced manufacturing are targeting immediate projects, such as the response to COVID-19, but also longer-term projects like the new LEAP here in Chicopee," said Secretary Kennealy. "This partnership between a growing company like Convergent and a tech-oriented university like Western New England will create the opportunity to build on that foundation and will take ongoing collaboration and training in this sector and across this region to the next level."
Integrated photonics is revolutionizing industries such as telecommunications, precision measurements, biomedical sensing and imaging, optic and laser development, and autonomous vehicles. The new LEAP in Chicopee will help Convergent develop next-generation high-power diodes in medical systems and fiber lasers used as optical power supplies in data centers that are the backbone for telecommunications, surgical, and industrial applications. For their partner, WNE, and other schools in the region, the facility will provide real-world training opportunities for students.
"We are very glad and proud to be part of the LEAP initiative which will reinforce the historical presence of Convergent Photonics in Western Massachusetts and foster the development of a  new generation of engineers in integrated photonics which is one of the most important key enabling technologies the 21st Century" said Paolo Sanna, President of Convergent Photonics.
"WNE is grateful to receive this award from M2I2 with our partners Convergent Photonics and STCC as we aim to build a collaborative learning environment that focuses on training the next generation of highly skilled engineers. The LEAP facility will provide unique hands-on experiential learning that is the hallmark of a WNE education," said Dr. Robert Johnson, WNE President. "We look forward to strengthening our bonds with the western Massachusetts community as economic development continues to expand and provide opportunities for our students."
The Baker-Polito Administration has committed more than $100 million in funding to the M2I2 effort, which allows the Commonwealth to co-invest in projects supported by the National Manufacturing USA initiative, helping promote innovation and job growth across the state. The new award announced today by the M2I2 program brings the total amount invested to $60.7 million, boosting advanced manufacturing projects throughout Massachusetts, supporting critical R&D infrastructure, and workforce training programs. The Executive Office of Housing and Economic Development and the Massachusetts Technology Collaborative (MassTech) co-managed the M2I2 effort.
"The investments we've made in these four LEAPs, built around our regional strengths and centers of innovation, make Massachusetts one of the best states for training and R&D in integrated photonics," said Carolyn Kirk, Executive Director of the MassTech.
This will be the fourth LEAP for integrated photonics in the Commonwealth, joining projects at MIT, a collaborative project between Worcester Polytechnic Institute (WPI) and Quinsigamond Community College in Central Massachusetts, and a collaborative project between Bridgewater State University and Stonehill College in Southeastern Massachusetts, all projects supported by M2I2.
"I was thrilled to hear that Convergent Photonics in Chicopee and Western New England University would be the recipients of this $2.5 million M2I2 grant to set up what will be the fourth photonics lab in the entire Commonwealth," said Senator Eric P. Lesser, Senate Chair of the Joint Legislative Manufacturing Caucus & Senate Chair of the Joint Committee on Economic Development and Emerging Technologies (D-Longmeadow). "We face a critical time economically as a Commonwealth and we have the opportunity to continue investing and reimagining the future of life sciences, manufacturing, education, and job training in every corner of our state, and I think Chicopee is a great place to carry out that mission."
"This award by the Manufacturing Innovation Initiative will help advance the state's photonics capabilities, while expanding innovative opportunities in Chicopee and the greater region. The collaboration between Convergent Photonics and Springfield Technical Community College in their creation of a LEAP facility represents a testament of the state's ongoing commitment to western Massachusetts in advanced manufacturing," said Representative Joseph F. Wagner (D-Chicopee), the assistant majority leader in the House of Representatives.
"The City of Chicopee is thankful for the continuous support of the Baker-Polito Administration," said Chicopee Mayor John L. Vieau. "With this M212 grant award, Convergent Photonics and Western New England University will better serve future generations through advanced integrated photonics training programs, like LEAP, that will help strengthen our manufacturing sector and empower our workforce."
M2I2 co-invests in four of the national manufacturing institutes under Manufacturing USA, areas where Massachusetts can play a leading role globally. The LEAP managed by Convergent and WNE is supported by one of those institutes, AIM Photonics, with other projects supported by the NextFlex Institute (flexible hybrid electronics), ARM institute (robotics) and AFFOA (advanced functional fabrics) which is based in Cambridge, Mass.
"These LEAP facilities are critical to our next generation workforce of skilled technicians, engineers, scientists and leaders in the growing field of integrated photonics, as well as ensuring our national security in manufacturing and defense-related supply chains," said Dr. Michael J. Cumbo, CEO of AIM Photonics. "AIM Photonics thanks the Commonwealth of Massachusetts for their support of the AIM Ecosystem through a vibrant and robust workforce for the growing photonics community."
AIM Photonics, the Department of Defense (DoD) sponsored Integrated Photonics Manufacturing Institute, heads into its fifth year, with a number of notable accomplishments and technological achievements.  Some of these major milestones include Radio Frequency (RF) over fiber for warfighter improvements, high-speed optical communications advancements (>1Tbps), low cost sensors for military and commercial applications (real time COVID-19 testing), and the only open-access 300mm state-of-the-art Photonic/Microelectronic test, assembly, and packaging research facility in the world. 
According to Manufacturing in Massachusetts, 10 percent of the Commonwealth's total economic output is tied to manufacturing, and Massachusetts companies exported $26 billion in manufactured goods in 2016 alone. Roughly 250,000 employees work in the Commonwealth's manufacturing sector, comprising 7.8 percent of the total workforce in the state.
###
About M2I2:
Launched by the Baker-Polito Administration in 2016, the Massachusetts Manufacturing Innovation Initiative (M2I2) aims to help Massachusetts manufacturers adopt innovative new technologies and guides the state's investment in the Manufacturing USA program. The Administration has committed $100 million-plus in funding to support M2I2 projects across the Commonwealth; the investments are managed by the Massachusetts Technology Collaborative. Through the creation of sector-specific Manufacturing USA Centers, M2I2 will advance innovations and job growth within the state through cross-collaboration among companies, universities, national labs, government, incubators, accelerators, and other academic and training institutions.