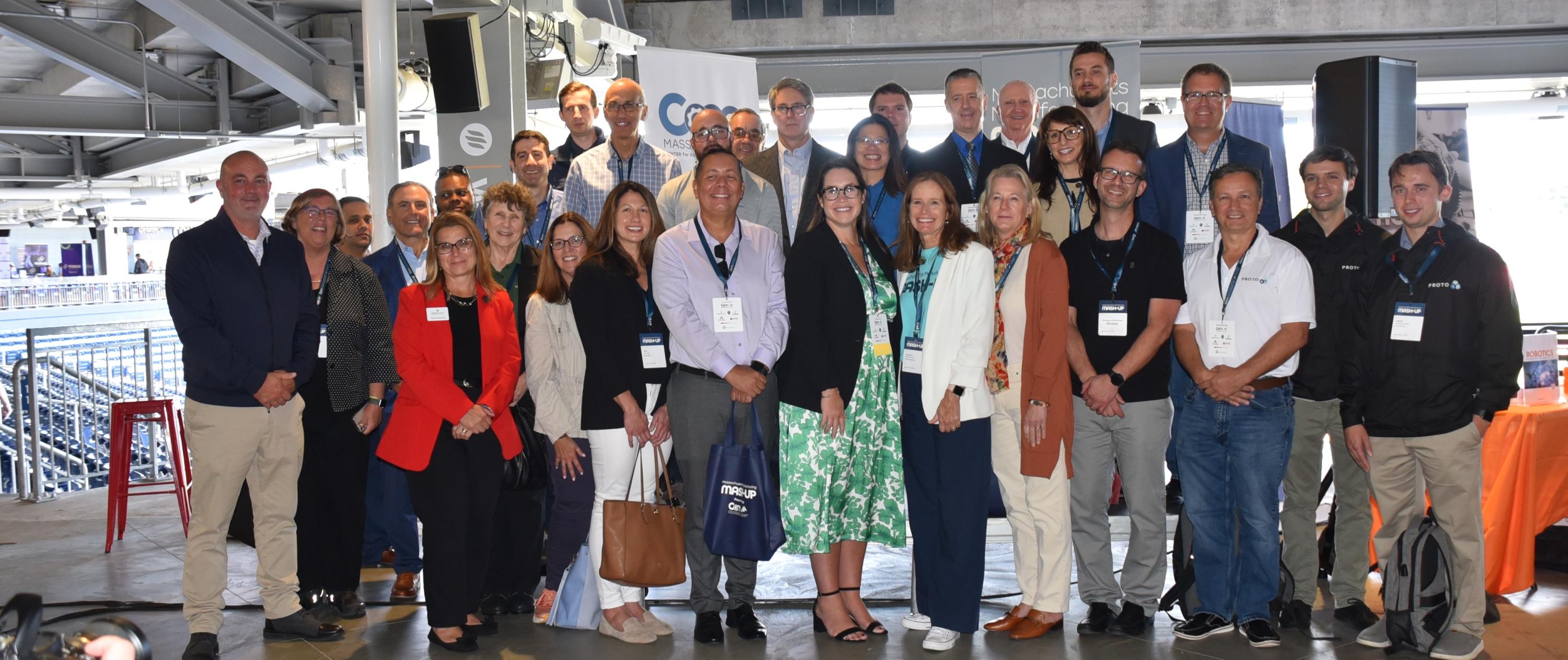 The Healey-Driscoll Administration announced the third round of grants from the Massachusetts Manufacturing Accelerate Program (MMAP), awarding $2.2 million to 11 manufacturers from across the Commonwealth. The grants were announced by Executive Office of Economic Development Undersecretary of Economic Strategies Sarah Stanton and are managed by the Center for Advanced Manufacturing at MassTech Collaborative (CAM).
MMAP aims to co-invest in small- to medium-sized manufacturers to better prepare their businesses to meet the demands of 'Industry 4.0,' the innovation-driven production methods powered by smart technologies such as data analytics, cloud computing, artificial intelligence, automation, and connected technologies to stay competitive.
Manufacturing Firm

Grant Amount

Location

Partner(s)

Amramp Accessibility 
$250,000
Randolph
MassMEP

Amramp Accessibility is a manufacturer of steel accessibility and wheelchair ramps and a franchisor of free standing locations for accessibility solutions. This grant will help Amramp purchase a custom robotic welding system to increase the efficiency of output for detailed parts. The system will be designed to weld assemblies on two single-axis positioners featuring custom-designed tooling presented to a six-axis welding robot, ensuring operator intervention is easy and safe. This system will allow Amramp to hire and train candidates not only in the welding arena, but also robotic systems operators and roles within the machining, powder coating, and shipping departments. With the design and integration of additional tooling, this system has the functionality and ability to handle future growth.

BostonSight
$200,000
Needham
MassMEP

BostonSight is a woman-owned medical device manufacturing lab producing proprietary, custom contact lenses for patients with disease or damage to the surface of the eye that often cannot be otherwise treated. This grant will help BostonSight purchase a new DAC ALM lathe with an autoloader and precision blocking system. The lathe manufactures scleral contact lenses from rigid gas permeable plastic buttons, which can be customized to meet the unique needs of each individual patient. The autoloader is a robotic assembly system and will be the first of its kind at the BostonSight manufacturing facility, serving as their entry into emerging digital technologies that will position them for future success and innovation.

Delta Electronics Mfg. Corp.
$200,000
Beverly
MassMEP
Delta Electronics Mfg. Corp. is a woman-owned business that manufactures radio frequency coaxial connectors, cable assemblies, and other components. This grant will allow Delta Electronics to purchase key pieces of equipment, including an x-ray machine to inspect solder terminations, a compact machining center used for fixtures and tooling, a digital cut-off saw to measure and cut semi-rigid cable, a robotic benchtop soldering system, and more. With this new equipment, Delta Electronics will be able to manufacture, test, and qualify solder and electrical assemblies in compliance with the IPC-620 Space addendum certification. Their products are used in military, aerospace, medical, broadcast/audio, transportation, and industrial markets.
Den Mar Company
$180,000
North Dartmouth
MassMEP

Den Mar Company is a full-service sheet metal fabricator that serves architectural millwork companies, restaurant equipment contractors, and industrial accounts. This grant will allow Den Mar to meet the high demand in production they are experiencing by purchasing three state-of-the-art robotic welding systems. These new robots will replace their current tract robots, which are more than 30 years old. Deploying newer robots showcases the company's commitment to more efficient operation and will help them hire new entry-level employees.

F.H. Peterson Machine Corp.
$250,000
Stoughton
MassMEP

F.H. Peterson Machine Corp. is a precision and general contract machining firm that is primarily focused on the defense industry but serves a wide range of markets. This grant will allow F.H. Peterson to advance in the field of defense contract machining by purchasing a large vertical CNC machining center, which can precisely machine parts weighing upwards of 10,000 lbs. Additionally, the company will purchase a large CNC Mill-Turn "Live-Tooled" Lathe, enhancing capabilities of multi-axis applications. These purchases will allow the company to improve efficiency in its processes, keep up with demand, and train all co-op and apprenticeship machinists using the latest advanced methods of machining in the industry.

G&F Precision Molding Inc.
$250,000
Sturbridge
MassMEP

G&F Precision Molding Inc. is a contract manufacturing company specializing in thermoplastic and silicone injection molding for the medical device, pharmaceutical, and defense industries. G&F will use this grant to purchase a coordinate measuring machine, which determines three-dimensional measurements quickly and without moving axes or fixturing in a complex manner. CT scanning capabilities will allow G&F to develop new products for their customers at a better quality, faster pace, and reduced cost. Currently, all CT scanning work is outsourced to a company in Florida. This equipment will allow G&F to bring this work back to Massachusetts.

Helfrich Brothers Boiler Works, Inc. 
$250,000
Lawrence
MassMEP

Helfrich Brothers Boiler Works manufacturers, repairs, and installs boiler pressure parts for major utility and renewable energy companies in Massachusetts and across the country. Additionally, the company fabricates ASME pressure vessels for the semiconductor, battery production, additive manufacturing, advanced robotics, and aerospace industries. This grant will help Helfrich Brothers keep up to date with emerging technologies by adding robotic welding to their production capabilities. The collaborative robot will be deployed alongside a trained employee to automate the welding of attachments to tanks and tubes. By bringing on this new technology, Helfrich Brothers will provide an opportunity for their employees to stay current with new manufacturing trends and continue to build their skillsets.

J&J Machine Company, Inc.
$185,087
Marlborough
MassMEP

J&J Machine Company manufactures precision components from metal, plastic, and other materials for the medical, aerospace, and scientific sectors. J&J will use this grant to create complex parts with increased precision and efficiency through the purchase of a Haas VF-4SS milling machine with a five-axis Trunnion. Additionally, J&J will purchase a coordinate measuring machine, which can be programmed to automatically inspect complex parts with high accuracy. Using their current technology, complex parts may require p to seven operations, with each step requiring set-up and inspection, introducing opportunities for error. Five-axis technology will eliminate multiple set-ups, reduce waste, improve cycle times, and provides a high level of repeatability.

Proto XYZ Inc.
$160,000
New Bedford
MassMEP

Proto XYZ offers cloud-based manufacturing services using emerging technologies and disruptive innovations. Utilizing 3D printing technologies, CNC machining, and artificial intelligence, Proto XYZ provides quality parts and components to engineers and designers across industries including defense, microelectronics, medical device, and robotics. This grant will allow Proto XYZ to expand the production of metal components using CNC milling, CNC turning, and laser cutting. The additional equipment purchased through funding will result in lower costs and reduced lead-times by using the best manufacturing process for the specific products in their customer's order.

Sinicon Plastics
$137,500
Dalton
Berkshire Innovation Center

Sinicon Plastics is an injection molding and precision machining manufacturer specializing in molding highly engineered resins for the medical, pharmaceutical, and aerospace industries. In the last four years, they have expanded capabilities to include metal machining. This grant will enable Sinicon to further improve their machining capabilities by adding a 4+ axis vertical and horizontal machining center. By upgrading their current equipment, Sinicon will be in a position to absorb a larger amount of highly technical jobs to match the growing demand. Additionally, Sinicon will be adding precision measurement systems to ensure quality outputs.

Wirefab Inc.
$225,000
Worcester
MassMEP

Wirefab Inc. specializes in scalable wire and metal manufacturing, engineered design, customizable fabrication, and efficient supply solutions. This grant will enable Wirefab to purchase a customized automated wire forming cell. The machine is a state-of-the-art CNC 3D wire former with synchro technology configured with a turret head coupled with three rotary satellite benders. The cell will allow for full automation of secondary operations including complex bends, sorting, and packaging. Additionally, the integration of this cell into Wirefab's operation will increase workforce safety, allowing workers to oversee the automation rather than handle heavy and dangerous parts. This would be the first fully automated cell on the production floor, moving the company towards Industry 4.0.