The Baker-Polito Administration announced the first round of grants from the new Massachusetts Manufacturing Accelerate Program (MMAP), awarding $2,157,416 to 13 manufacturers from across the Commonwealth. The grants were announced by Housing and Economic Development Secretary Mike Kennealy and were managed by the Center for Advanced Manufacturing at MassTech Collaborative (CAM).
Launched in June 2021, MMAP aims to co-invest in small- to medium-sized manufacturers to better prepare their businesses to meet the demands of 'Industry 4.0,' the innovation-driven production methods powered by smart technologies such as data analytics, cloud computing, artificial intelligence, automation, and connected technologies to stay competitive.
Read Press Release        View Flickr Photo Album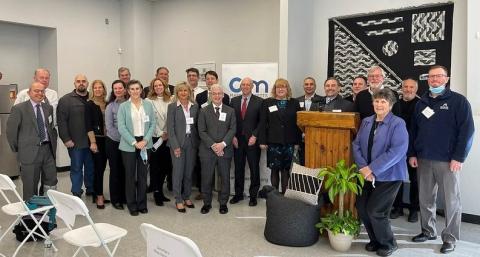 Media Coverage
Manufacturing Firm

Grant Amount

Location

Partner(s)

Advance Welding/Kielb Welding Enterprises
$250,000
Springfield
Western MA Economic Development Council
The award allows Advance Welding to purchase Electron Beam Welding and Laser Beam Weld chambers, power sources, pumps, and support equipment to meet the needs of large defense manufacturers. Bringing these processes under the umbrella of services will make it one of the most well rounded Fusion Welding companies in the U.S.
Associated Environmental Systems (AES)
$206,200
Acton
MassMEP
Associated Environmental Systems manufactures environmental test chambers which allow companies to test their products under different environmental conditions, including various temperature and humidity conditions. These are used in many industries including medical devices, defense, automotive, electric vehicles, and battery development. This award will allow the company to purchase a Servo-Hydraulic CNC Press Brake and leverage advanced manufacturing technology to speed up the manufacturing process, driving increased throughput and driving new job growth, while also reducing floor space and allowing for expansion.
AccuRounds
$250,000
Avon
MassRobotics
AccuRounds has a need from a new customer in the robotics space, specifically in the growing warehouse automation vertical. The technical challenge for AccuRounds is how to manufacture drive shafts in volume at a competitive cost, allowing the production to remain in Massachusetts. AccuRounds will utilize robots to load/unload parts, an optimal way to maximize throughput and cost, while reducing or eliminating repetitive motion for workers. This will increase overall efficiency and allow the company to hire new workers.
Atech Turbine
 $138,000
Auburn
MassMEP
Atech is a minority-owned, female-run small business focused on the overhaul and repair of aircraft parts. Through the new capital equipment, including a coordinate measuring machine, metallographic cut-off saw, heat treating cycling refrigerator dryer, and vacuum furnace, will provide them the ability to launch new products using advance manufacturing techniques for the battery, aerospace, and defense industries.
Boulevard Machine
$95,838
Westfield
MassHire Workforce Board Hamden County
Boulevard Machine & Gear is a woman-owned & certified precision machining facility that offers production, complex precision machining for Tier 1 aerospace, defense, space and other technical markets. Boulevard will purchase a Haas VF5-SS to meet new demand from the space sector, which will allow the firm to save on tooling and increase speeds, making them more competitive in the market. It will allow the company to reduce multiple tasks down to a single operation.
Guardair Corp
$145,200
Chicopee
MassMEP
Guardair Corporation is a leading manufacturer of pneumatic tools and accessories used for industrial cleaning. Pneumatic (compressed air powered) vacuums have been around for many years and over a year of R&D efforts, Guardair has produced a vacuum generating head incorporating a unique, proprietary, multistage, multi-venturi design that generates superior vacuum flow and head but consumes up to 70% less compressed air compared to current designs. The MMAP grant will fund the purchase of molds, fixtures, and tooling critical to minimize component costs for the production of this new product.
Hi-Tech Mold & Tool
$75,000
Pittsfield
Berkshire Innovation Center & MassMEP
Hi-Tech Mold & Tool is a contract manufacturer in the aerospace, defense, medical, and industrial industries. With this award, Hi-Tech will purchase a Haas CNC 4-axis milling machine to support capacity growth in the aerospace and defense business lines. They have secured new contracts from Pratt Whitney and L3 Harris that will require this new added capacity and allow for new hiring to staff the equipment.
International Fabric Machine
$250,000
Boston
MassRobotics
International Fabric Machines Inc. (IFM) is an MIT spin-off focused on designing and creating revolutionary fiber and fabric products based on its proprietary functional fiber technology. Headquartered at MassRobotics in Boston, IFM is focusing on scaled manufacturing of advanced fiber and products targeting Department of Defense and consumer markets such as logistics, robotics, healthcare, performance analytics, and defense. The company is currently scaling two enabling fiber technologies: a chip-in-fiber technology, and a sensitive fiber and fabric acoustic microphone and vibrometer for remote health monitoring for susceptible populations. IFM's new equipment will be used to set up an initial manufacturing facility to support the market introduction of its first mass market product in 2021.
JetCool
$197,078
Littleton
MassMEP
Jetcool designs and manufactures cooling solutions for advanced semiconductors in defense, computing, and data centers. The company's modules integrate in precision assemblies to perfectly match the geometrical layouts of the semiconductors they cool, extracting heat right where it is generated within the electronic device. New equipment will allow JetCool to precision cut materials that will be used in final product assemblies, across a variety of source materials that can be used for applications from defense to computing.
Klear Vu Corp
$87,500
Fall River
MassMEP
Klear Vu's signature product is a patented non-slip cushion. They have experienced rapid eCommerce growth with online sales nearly doubling over the past two years. Recently, Klear Vu expanded its product line to include outdoor cushions, requiring the purchase of specialized capital equipment, specifically the purchase of a fully automated sewing line which includes a robotic clamp, computerized control system, two sewing heads, and a 0.8-meter-wide conveyor. The benefits of having this new equipment include new skilled positions, access to new markets, quality improvements, and safety.
Marzilli Machine Co., Inc.  
$250,000
Fall River
MassMEP
Marzilli Machine Co. is a precision CNC components manufacturer serving the aerospace, defense, medical, and firearms markets. The new grant-supported equipment will help Marzilli overcome capacity and lead time challenges by expanding their 5th axis capabilities, allowing them to meet challenges from existing and new customers.
North Easton Machine
$147,500
North Easton
MassHire Greater Brockton
North Easton Machine Company, Inc. (NEM) is a 57-year-old advanced manufacturer that contracts with a diverse customer base, producing custom-machined components for engineers and buyers in the defense, semiconductor, medical device, robotics, photonics, and lithium-based battery industries. The grant will help replace aging equipment and increase throughput by reducing overall cycle time by adding bar feed automation. The increased machine technology will support the manufacturing of more complex parts, allowing NEM to quote on new work currently outside its machine capabilities. It will also make NEM more competitive on price and lead times, potentially expanding their semi-conductor and photonics market share.
Olsen Marine
$65,000
East Dennis
MassMEP

Olsen Marine, Inc. is a small women-owned custom boat building and repair company that operates The Duck Boat Co. The company's capital equipment purchase includes converting workspace and additional equipment for increased production, including an automated fiberglass fabric cutter. This more streamlined production allows Olsen to not only meet the current demand for its boats, but also pursue expansion into other markets for future products and capabilities. Through these improvements, Olsen can improve their workspace and production capabilities, plus attract new employees and double its workforce.