Accessing State Incentives for CHIPS Funding Opportunities
Your Digital Front Door to Identify State Support for Your CHIPS Proposal
Background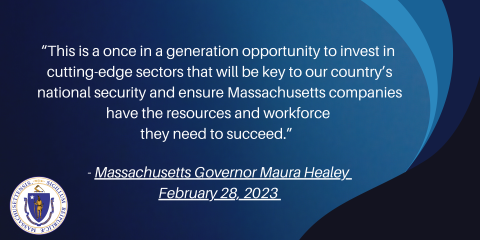 The Center for Advanced Manufacturing at MassTech is working closely with the Mass. Office of Business Development (MOBD) and other state agencies to support Massachusetts-based organizations that are interested in applying to the current and forthcoming Notice of Funding Opportunities offered under the federal CHIPS for America program. 
This page is your first step in the process to help Massachusetts companies to identify and access state incentives that are required by the federal government in applications for federal grant funding under these CHIPS programs. 
The intent of this program is to help Massachusetts companies develop a complete application, with the inclusion of a letter from the state reflecting its offer to provide a qualifying covered incentive.
CHIPS for America Funding Opportunities
On February 28, 2023, the CHIPS for America office released the 1st program tied to the $39 billion manufacturing incentives fund, the Notice of Funding Opportunity ("NOFO"): Commercial Fabrication Facilities, covering two primary application pathways with specific objectives:
1a – Leading-Edge Fabs objective: The U.S. will "establish at least two new large-scale clusters of leading-edge logic fabs, where clusters are geographically compact areas with multiple commercial-scale fabs owned and operated by one or more companies; a large, diverse, and skilled workforce; nearby suppliers; R&D facilities; utilities; and specialized infrastructure"

Leading-Edge Facilities that utilize the most advanced front-end fabrication processes for logic, 3D NAND Flash, and Dynamic Random-Access Memory (DRAM) semiconductors.
1b – Current-Generation, Mature-node Semiconductors, and Back-end objective: to increase the United States' production capacity for the current-generation and mature-node chips.

Current-Generation Facilities that produce semiconductors based on 5 nm to 28 nm process technologies, and include logic, analog, and mixed-signal devices.
Mature-Node Facilities that include logic and analog produced with process technologies above 28 nm, discrete semiconductors, optoelectronics, and sensors
Back-end Production Facilities for the assembly, testing, or packaging of semiconductors that have completed the front-end fabrication process.
As noted in the NOFO, it is important to note that a letter demonstrating the offer of a covered incentive must be submitted at the time of the application, not with the initial SOI. Timelines are understood to be as shown below.
What is a State Incentive, According to the Federal Government?
Qualifying covered incentives are defined as:
"an incentive offered by a governmental entity to (A) a covered entity, for the purposes of constructing within the jurisdiction of the governmental entity, or expanding an existing facility within that jurisdiction, a facility described under "covered entity;" and (B) a workforce-related incentive (including a grant agreement relating to workforce training or vocational education), any concession with respect to real property, funding for research and development with respect to semiconductors, and any other incentive determined appropriate by the Secretary, in consultation with the Secretary of State." See 15 U.S.C. § 4651
As noted above, a letter demonstrating the offer of a covered incentive(s) must be submitted at the time of the application, not with the initial statement of interest.  This letter can include contingencies; however, the contingencies must be cleared and subsequent incentives must be available by the time of the Federal award.  
MA's Designated Incentives
The form linked at the bottom of this page identifies the covered state incentive(s) offered by the Commonwealth of Massachusetts or one of its designated agencies.
Incentive options, along with the awarding agency, include:
| | |
| --- | --- |
| Program | Agency/Office |
| Capital investments for CHIPS initiatives | Mass. Technology Collaborative (MassTech) |
| Energy Savings | Massachusetts Clean Energy Center (CEC) |
| Financing | Mass Development |
| Manufacturing Tax Credits    | Mass. Department of Revenue (DOR) |
| MassWorks Infrastructure Grant | Executive Office of Economic Development (EOED) |
| Tax Incentives for Job Creation | Mass. Office of Business Development (MOBD) & Economic Development Incentive Program (EDIP) |
| Workforce Training/Safety Training | Executive Office of Labor & Workforce Development (EOLWD) |
First-Step Intake Form
This page serves as the first step for your company to access state incentive package offerings, including the intake form linked at the bottom of this page.
Staff will review submissions, following up with companies to clarify any questions. From there, introductions will be made to the relevant agency or agencies that manage the covered state incentives, with agencies providing guidance on accessing specific incentives.
Leaders in the Commonwealth, including the Secretary of Economic Development, have encouraged agencies to prioritize these requests in order to meet the federal funding timelines. Mass Tech, in partnership with the Executive Office of Economic Development, will track the progress of each referral made to state agencies, in order to expedite responses.