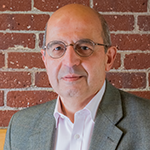 Director, Advanced Technology Programs & Workforce Development
Center for Advanced Manufacturing
vazehgoo@masstech.org
Farhad Vazehgoo started his career designing semiconductor circuits and systems. He earned his bachelor's degree in Electrical & Electronic Engineering from the University of Manchester, Manchester, U.K. He is a senior IEEE member and currently holds the position of Acting Director for the Center of Advanced Manufacturing (CAM) at MassTech where he manages investments made under the Massachusetts Manufacturing Innovation Initiative, or M2I2, a program from the Commonwealth of Massachusetts to advance innovation and job growth in key advanced manufacturing sectors.
Farhad joined MassTech from his previous role as the Director of Technology & Functional Safety Products in the automotive business unit at Analog Devices. Prior to Analog Devices he held various engineering positions with Fairchild Semiconductors, Kendall Square Research, and Tandem Computers to name a few.
He holds three patents and has over 30 years of experience designing and managing the development of leading edge circuits and systems for automotive and non-automotive applications.