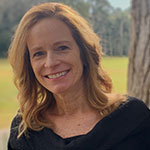 Director
Center for Advanced Manufacturing
nolan@masstech.org
Christine Nolan is the director of the Center for Advanced Manufacturing (CAM) based at the Massachusetts Technology Collaborative, the agency focused on growing the tech and innovation sectors across Massachusetts. The Center's mission is to foster a competitive manufacturing ecosystem from innovation through production. She works in collaboration with the Advanced Manufacturing Collaborative, a group of industry, academia, and state government, chaired by the Secretary of Housing and Economic Development, to set a strategy for growth statewide.
To this role, Nolan brings a wealth of senior level experience from manufacturing and technology organizations in Massachusetts. She began her career as a manufacturing engineer where she saw progressive roles on the manufacturing floor and into the world of strategic account management.

She transitioned into economic and community development and spent 10 years at the Mass Tech Leadership Council, a non-profit helping to build the tech economy here in the State. The Center's focus on driving innovation in the advanced manufacturing sector is helped by Nolan's background in mechanical engineering and her educational background, which includes a B.S. in mechanical engineering from Worcester Polytechnic Institute.